About Rambling Steve
ランブリング・スティーブ・ガードナー

ミシシッピー生まれのランブリング・ブルースマン スティーブ・ガードナーのホーム・ページにようこ そ!! チャーリー・パットン、サン・ハウス、ロバート・ジョンソン・・・・ ブルースの故郷、ミシシッピー・デルタの音楽の魂を人々に伝えたいと、 ランブリング・スティーブ・ガードナーはーアメリカン・ルーツ&ブルース・フロ ム・ミシシッピー、東京を中心に全国各地で演奏活動を続けています。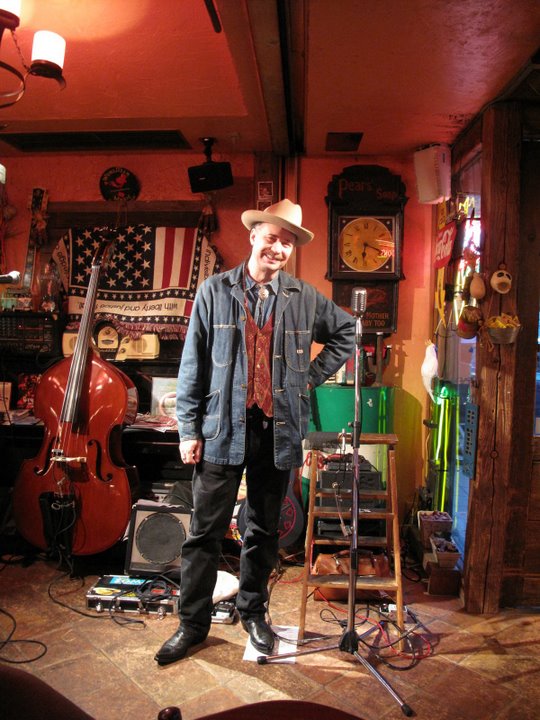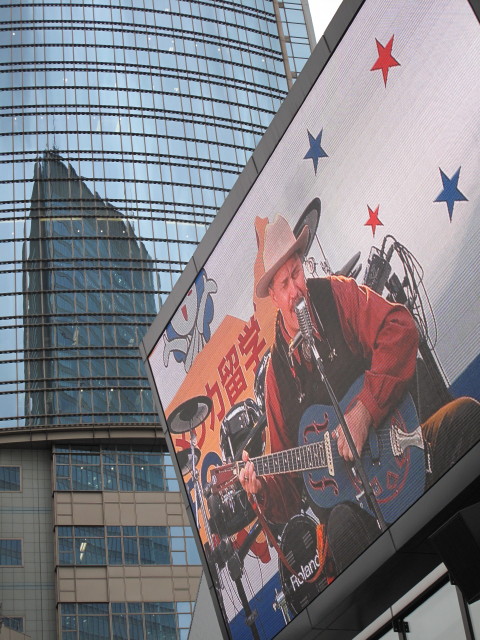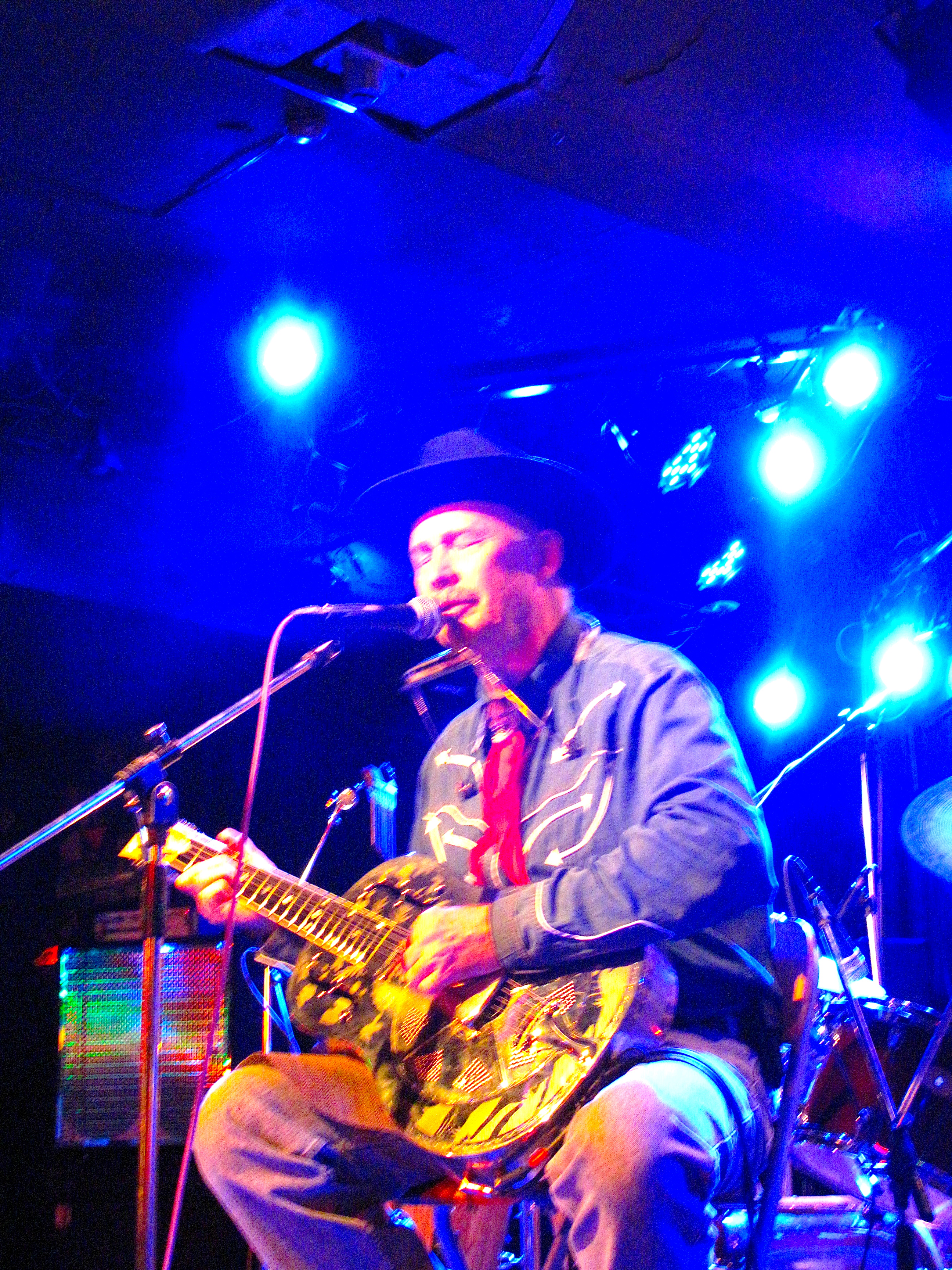 ブルースはいつも、僕の生活のなかにあった。 ランブリング・スティーブ・ガードナー ・アメリカン・ルーツ&ブ ルース・フロム・ミシシッピー 「僕がブルースのとりこになったのは、子どものころ。1956年に生まれた僕の生活の中に は、カントリー・バンドの音楽のギターやハーモニカとともに、野原や畑を渡る低いうめ きのような音楽がいつもあった。日曜日の教会の開け放たれた窓から飛び出してくるゴス ペルの歌声、つけっぱなしのラジオからガンガン流れてくるブラック・ミュージッ ク・・・。土曜の夕べに魚を揚げるとき、聞こえてくるのもブルースだった」 Rambling Steve Gardner スティーブ・ガードナー NEW 6枚目のCD 『HESITATION BLUES』(Blues Cat Records 2013) "Big Leg Acoustic Stuff!" 1996年にボトルネック・ブルースバンドを結成して以来、ライブ活動を精力的に開始。2002年に ファーストCD『Rambling With The Blues』、2005年にセカンドCD『Big Delta Crossing』、2007年 にサードCD『JERICHO』をリリース。2008年の夏にはアメリカン・ルーツ&ブルース・ミュージッ クをニューオリンズで録音し、4枚目のCD『Walking The Dog』5枚目のCD 『Wooly Bully Express』として年末に発売の予定。明治大学講師。ブルースとアメリカ南部の文化に関する講義を東 京の各大学で行っている。
Rambling Steve Gardner is available for workshops and seminars on American Roots and Blues music as well as house parties, live performances and concerts.
★★--Press Quotes and Reviews for Rambling Steve Gardner--★★
..the gut power of Delta blues has had fewer finer exponent than Rambling Steve Gardner." Michael Pronko-The Japan Times (Japan)

"Rambling Steve Gardner...storyteller, singer, bluesman... blues originale." Dietmar Hoscher- CONCERTO magazine (Austria)

Steve and his guys bring the best of the back porch to the front of the big stage" Peggy Lou WWOZ 91.3 FM Public Community Radio New Orleans (USA)

"Does it get any better than WALKIN' THE DOG or WOOLY BULLY EXPRESS? You bet it does when you listen to Rambling Steve Gardner's newest CD, HESITATION BLUES". James POE WABG AWESOME AM 960 (USA)

"Some of the coolist music that I have ever heard. Metal guitars and saws. Real blues from Rambling Steve Gardner. He is the real thing." Andreas Dirnberger Blues Promotions (Austria) @ www.bluesfan.at

"Rambling Steve Gardner, rambles the lost highways of Hank Williams and Jimmy Rogers as easily as the flat delta of the Mississippi blues men whose music he carries on so very well." Norio Higashi Radio Tokyo 954 AM (Japan)

"Mississippi's music ambassador to Japan" Al Brown WMOX Radio 1010 AM (USA) "Rambling Steve Gardner's music is as Mississippi as the cotton fields and the dark, muddy river bearing the same name." C. Sade Turnipseed "Delta Renaissance" WABG-TV (USA)

"Great sound...Just my cup of tea." Barry Ivory "Melting Pot" 99.3 FM (Australia)

"Rambling Steve Gardner, Hesitation Blues, is one of my favorite artist, playing some of my favorite songs on some of my favorite instruments" Thomas Greener "Ragged But Right" KVMR 89.5 FM (USA)

"I hear cotton fields, Tom Sawyer, the Mississippi River and the great American open road in Rambling Steve Gardner's music." BIG BIKE CRUSING Magazine (Japan)

"Rambling Steve's arrangements bring something fresh to the roots and blues tradition and that is every blues man's greatest responsibility." Ry Beville, Ko-e Magazine (Japan)
Rambling Steve Gardner ランブリング ・ スティーブ・ガードナー ギター、ハーモニカ、ヴォーカル ブルースはいつも、僕の生活のなかにあった。 「僕がブルースのとりこになったのは、子どものころ。1956年に生 まれた僕の生活の中には、カントリー・バンドの音楽のギターや ハーモニカとともに、野原や畑を渡る低いうめきのような音楽がい つもあった。日曜日の教会の開け放たれた窓から飛び出してくるゴ スペルの歌声、つけっぱなしのラジオからガンガン流れてくるブ ラック・ミュージック・・・。土曜の夕べに魚を揚げるとき、聞こ えてくるのもブルースだった」 サザン・ミシシッピー大学ジャーナリスム科卒業後、地元の日刊紙ジャクソン・ディ リー・ニューズ社写真部に勤務したスティーブは、仕事のかたわら、サム・チャットマン (チャーリー・パットンの従兄弟でミシシッピー・シークのメンバー)など、ミシシッ ピー・デルタのブルースマンたちとの親交を深め、ブルースの手ほどきを受けた。 1980年に来日したスティーブは、「タイム」「ニューズウィーク」誌をはじめ、多くの雑 誌のアジア取材でフォト・ジャーナリストとして活躍。いっぽう、東京のブルース・シー ンでブルース・ハーピストとして知られるようになる。その後、東京とミシシッピーを往 復し、ジャック・オーエンス、ジェシー・メイ・ヒンピルをはじめ、デルタのブルースメ ンの写真を撮り続け、1994年に写真集『Rambling Mind』を出版した。 1996年にボトルネック・ブルースバンドを結成して以来、ライブ活動を精力的に開始。 2002年にファーストCD『Rambling With The Blues』、セカンドCD『Big Delta Crossing』、サードCD『Walkin' The Dog』、フォースCD『Jericho』、2011年に5枚目の CD『Woolly Bully Express』をリリースした。東京の各大学でブルースとアメリカ南部の 文化に関する講義を行い、明治大学でも非常勤講師として教鞭を取っている。2009年、 2010年には「ウィーン・ブルース・フェスティバル」に招かれた。毎年夏には、アメリカ ツアーを精力的に行っている。


More About Rambling Steve Gardner


I was born in Mississippi in 1956. Music came into my life by way of an old phonograph, my cousin's Japanese transistor radio, our black and white television set and church on Sundays. And especially those great times when Daddy would play rhythm on four kitchen knives while Uncle Amos Parker played and sang. I picked up the guitar and harmonica later on and have never looked back.

I met and made friends with Sam Chatmon, of the Mississippi Sheiks in the 70's as I worked on a degree in photojournalism from the University of Southern Mississippi. After a few photos and a meal of fried chicken or catfish Sam would let me blow the harp with him a while saying, "Steve, everybody needs a chance to be told to sit down!" I learned to take that chance when it was offered...you may not get another one anytime soon.

The music and photography became my pass way to friendships with so many fine musicians like Jack Owens, Jessie Mae Hemphill, James Son Thomas, Booba Barnes and more who opened their homes and hearts to me. They all pointed out that you must find your own road into the blues, play your own songs and play them your own way. Usually they would say something like, "Steve, you ain't me and I ain't you so just git on with it!" I did too.

In 1980 I left my photography job at the Jackson (MS) Daily News and moved to Japan where I freelanced for Japanese magazines as well as Time and Newsweek. I covered Asia and the US from here and still found time for the blues.

This international interest in the blues led me to finish my best black and white picture book on Mississippi and the blues, Rambling Mind (1994). This book shows the Mississippi that I grew up and came to know with its-share croppers, good times and hard, its people and the musicians that treated me like both friend and family.

My first CD, Rambling With The Blues (2002) is this books musical companion. The music, the blues has continued to light my path as I ramble across the deep waters from Mississippi to Tokyo. The photography still counts but it has taken a back seat to the guitars and harmonicas.

I have traveled around the world from Mississippi to Japan and beyond, where I play American roots and blues-both on stage and in programs on Mississippi and southern culture for educational institution and on tours for the US Department of State.

We are living in turbulent and changing times. But like the old folks used to tell me "... life is like a bottle of whiskey, you better drink it all and not waste a drop...Remember, you can't be afraid and live free..."

After all, everybody gets the blues...sometime.