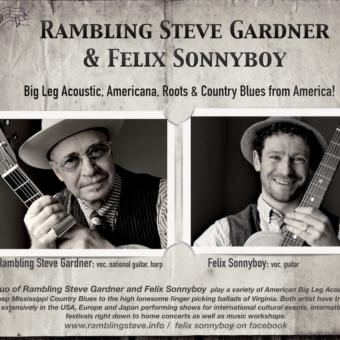 TAC–First Friday Club Event MARCH 5, 2021
TAC–First Friday Club Event MARCH 5, 2021
Rambling Steve Gardner & Felix Sonnyboy
Big Leg Music!
The duo of Rambling Steve Gardner and Felix Sonnyboy play a variety of American Big Leg Acoustic music from deep Mississippi Country Blues to the high lonesome finger picking ballads of Virginia. Both artist have traveled and toured extensively in the USA, Europe and Japan performing shows for international cul- tural events, international music festivals right down to home concerts as well as music workshops.
www.ramblingsteve.info / felix sonnyboy on facebook
Rambling Steve Gardner, Big Leg Roots and Blues from Mis-
sissippi. Rambling Steve is a Roots and Bluesman, story teller, solo artist, co-founder of the JERICHO ROAD SHOW, National Reso-phonic Guitar featured artist, who grew up near Pocahontas, MS. and is based in Tokyo, Japan. Rambling Steve tours in the USA, Europe, Southeast Asia and Japan, conducts workshops and promotes American Music and Culture in schools, universities and from time to time for the Cul- tural Affairs Section of U.S. Dept. of State (American Shelf Program). Rambling Steve Gardner plays original, acoustic Americana, roots and country blues music, finger picking and slide on National Reso-phonic guitars, banjo and harmonica. He has released eight compact discs on Blues Cat Records inclueding projects with the JERICHO ROAD SHOW. His latest solo recording, MIZ SALLY'S YELLOW CAT SONG BOOK, is a 19 track CD & DVD, poster and book with music DVD animated with the dementia drawings by Miz Sally, Rambling Steve's 85 year old mom.
For more about Rambling Steve Gardner, visit: www.ramblingsteve.info
Felix Sonnyboy is a "songster" from Michigan U.S.A. He knows over 2000 songs and has written 500. His music spans the early 20th century from sheet music classics along with the tunes that defined the roaring 20's to prewar blues from 1930's along with a touch of early jazz and even a few cowboy tunes that touch on the great country songs of the 1950's and 1960s. Felix has traveled and sung in all 50 states, most of Western European and has toured in Ireland extensively. He always travels with his banjo or guitar on his back, notebook in his pocket and ready smile on his face. He is now based in Tokyo, where he continues to pass on Americana stories & songs in performances for children of all ages and adults from every walk of life. For more info: Felix Sonnyboy on Facebook