Roots & Blues Workshops FAQ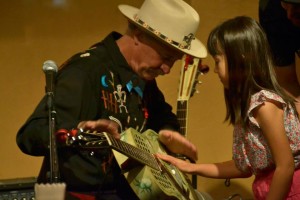 1) Working title for Rambling Steve Gardner American Roots And Blues performance? 
"Rambling Steve Gardner American Roots And Blues Work Shop" is an American Musical Over-view of the life and times that shaped American blues, jazz and rock'n roll from the 1800's to the 1950's. 
    2) Rambling Steve Gardner's American Roots And Blues performances are not just plain lectures, but involve audience participation and interaction combined with a hands-on music performance with stories and tall tales.
The program approximates the following:
Start with the showing of a DVD of photographs while everyone is gathering and getting seated. These are B &W images of  Mississippi from my book, RAMBLING MIND. The images are of cotton fields, people, places, bluesmen and blueswomen. A general overview of the "Land Where the Blues Began", to borrow from Alan Lomax. The idea is to let the students "see" the music as well as "hear".  This is followed by  an introduction of a blues tune or two, played on a resonator guitar. From there we begin to work backwards through time and place. Next the introduction of cotton, field hollers, clapping and finding "the beat", music on some of the several homemade instruments brought along for some "hands on" playing by the students as the instruments are passed around.     More tunes are played to support speaking points.  Finally some students  are invited to "join" in playing a song using one of the homemade instruments.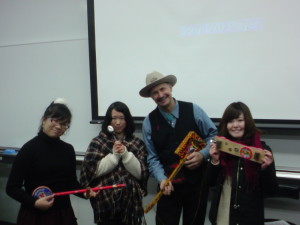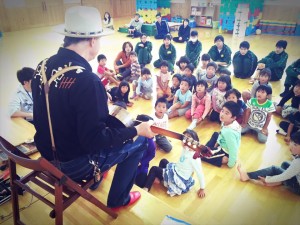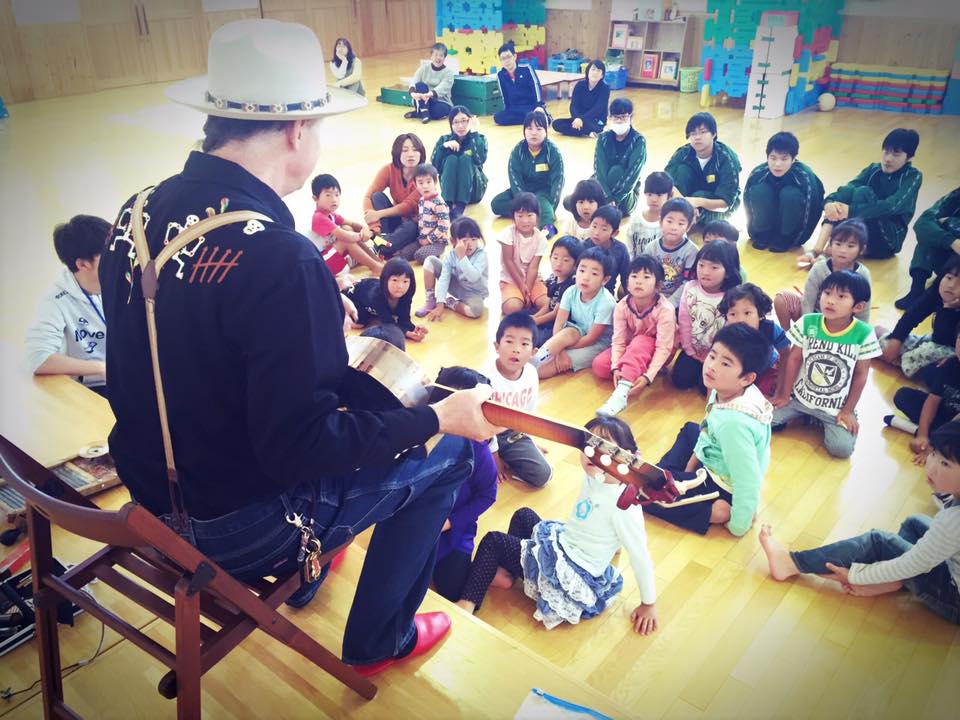 3) What kind of space works best?? Any specifications for equipment –mics, projectors, etc.?
Hall is fine as long as you have at least TWO mics and some sort of projector that will play a simple DVD. The mics, one for vocals the other for the guitar and other instruments should be on a stands. I would also like a tall stool or tall armless chair  and a small table to put my gear out on. For a classroom, then an armless chair and a room equipped with a projector.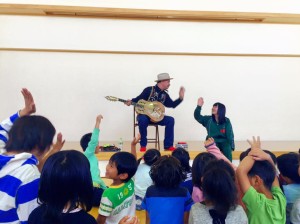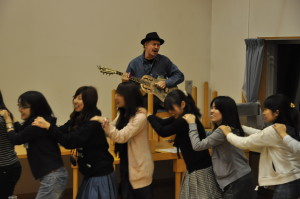 4)  Profile for Rambling Steve Gardner
Mississippi Roots and Bluesman Rambling Steve Gardner, based in Tokyo, Japan, plays original, acoustic roots and country blues music; finger picking and slide on National Reso-phonic guitars, with harmonica, banjo, washboard and a variety of hand made instruments. He combines his music and story telling into a musical journey through the history of American music from the early 1800's up to the 1950's. He touches on some of the important lives, times, events and people that helped shape American music through its many forms, from broadsides and ballads, spirituals, blues, folk, jazz, rock'n roll and beyond.
Rambling Steve Gardner plays and tours in Japan, where many of his tours have been sponsored by the Cultural Affairs section of the United States, Department of State as well as several Universities in Japan including: Meiji University, Waseda University, Meiji Gakuin University, Tokai University, The American School in Japan, St. Mary's High School and Yokohama International School. He also tours in: Singapore, Indonesia, Austria, Germany and the South-eastern United States. Rambling Steve Gardner plays and records solo and with the JERICHO ROAD SHOW, his international band based between New Orleans and Tokyo.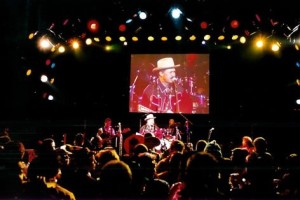 Growing up down in Mississippi, Rambling Steve  Gardner heard, learned from and sometimes played with blues greats: Sam Chatmon of the Mississippi Shieks, Booby Barnes, Jessie Mae Hemphill, Jack Owens, Frank Frost to name but a few. On tour in Austria he opened shows for Kim Wilson and The Fabulous Thunderbirds, Mojo Bufford of the Muddy Waters Band, Shemekia Copeland; in Japan, Gate Mouth Brown, Howard Tate, Jimmy and Eddie Burns,  Jimmy Dawkins, Corey Harris, Harmonica Shaw. In the U.S. he plays and records with Washboard Chaz, of Play For Change along with Bill Steber of the Jake Leg Stompers.
CDs to date by Rambling Steve Gardner include his latest and sixth release on Blues Cat Records(2012), HESITATION BLUES, a semi-solo recording of 20 tunes, besides being good listening is a companion to Rambling Steve Gardner's Roots & Blues Workshops. 
JERICHO ROAD SHOW VOLl 3 which follows WOOLY BULLY EXPRESS (2010) and WALKING THE  DOG (2009) both with the JERICHO ROAD SHOW along with JERICHO (2007),  Big Delta Crossing (2005) , Rambling With The Blues (2002).
Rambling Steve Gardner is  featured in the DVD/Double CD, Jessie Mae Hemphill and Friends, Dare You To Do It Again (2004).
"Walkin' The Dog" was chosen by New Orleans community radio WWOZ as one of the top ten best releases in for 2009. "Been On The Job Too Long", Rambling Steve Gardner's original tune off of  JERICHO was nominated for Best Political Song of the Year (2008) by The Just Plain Folks international music awards, Nashville, TN.
Rambling Steve Gardner graduated from the University of Southern MS., BA in Journalism. He came to Japan in 1980 and has worked in music and photography since. He divides his time between performing and doing workshops in Japan and touring in the USA and Europe. 
email: ramblingstevegardner@gmail.com