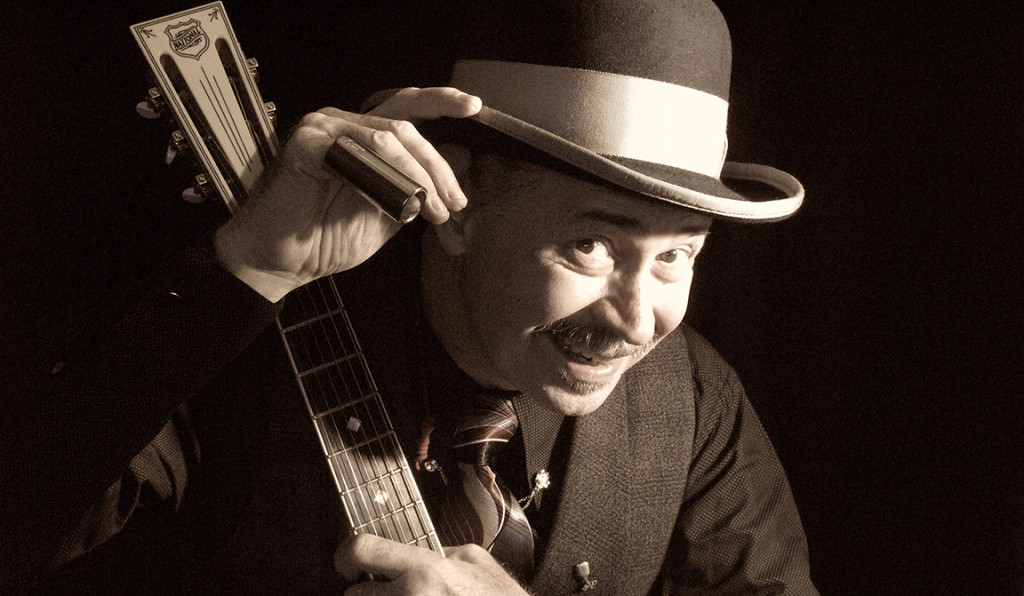 Three decades on, Tokyo bluesman is still rambling
Mississippi native takes roots music and history worldwide, and brings Southern comfort to Fukushima
Kris Kosaka Jan. 31, 2014
Maybe, as the saying goes, "you can't go home again," but you can take a little bit of home with you wherever you roam. "Rambling" Steve Gardner does; a Mississippi roots and bluesman based in Tokyo, Gardner travels the world making music and giving seminars about musical history.
The irony of the contrast between his small-town Southern background and global perspective doesn't escape him, but with a good-natured grin, he savors the contradiction. "Coming to Japan in the 1980s as a foreigner, I felt, early on, that sudden awareness of my own country as an outsider, and I felt a little shameful, growing up in Mississippi and looking at the hard and dark record of race relations my state has," he says. "You carry with you a genuine stigma, if you are at all aware of things. But my trump card as a musician in Japan was the very fact that I was from Mississippi."
Gardner learned to showcase the best of the Deep South while still acknowledging its past. Nowadays, he plays all over the world, from Austria to the southeastern United States, every year, saving the latter calendar months for his home base in Tokyo, where he inhabits "a little hole in the wall, filled with guitars and spare socks."
Making music has led to spots on radio and television, and a commercial relationship with the Black Sign Warranted apparel shop in Tokyo. He narrowly escaped the Great Hanshin Earthquake in 1995 and lately spends a lot of time in Fukushima, having made over 50 trips in the last two years, working with the Tokyo American Club's Women's Group.
Whether playing music or conducting workshops, Gardner is there to "help in some way with morale," he explains. "In Fukushima, kids are suffering from a fairly high level of depression. We've kind of adopted Fukushima No. 1 Elementary School" in the prefectural capital, "and we work there as much as possible; other musicians have made a relationship with the junior-high and high school. We want to do more than just entertain — the kids also need to be involved in something."
For Gardner, growing up in the turbulent Deep South of the 1960s and '70s, "strumming and fiddling" offered him some degree of stability. His first career aspiration, however, was to become a journalist. He graduated from the University of Southern Mississippi in 1977 with a degree in journalism and a particular interest in photography.
"You're all full of high expectations of how you're going to change the world and what the business is going to be like, and my dreams were 'dashed upon the rocks of reality,' as Mr. Steinbeck wrote." Gardner laughs at the memory. "After a few years working, I realized, I can stick around here and be poor and miserable, or I can jump out and see the world and be poor someplace else."
Thus began his rambling. At 23, Gardner made for Japan with a university friend, Charlie Cole."Charlie and I had been best friends since our sophomore years in university, and his dad was the chaplain at the (U.S.) Yokota air force base," he recalls. "It just looked like the perfect thing for a couple of guys to come to Asia in 1980 and be freeloaders for a little while. His dad was brought up the hard way, and he didn't go for that. After about a week of handshakes, we were put out of the house. It was a great experience."
With no financial safety net, the young men were forced to work as freelance photographers. They quickly found their niche in Asia. "The Pacific was heating up, and we filled a huge gap within the news-gathering community for Japanese publishers," he says.
Gardner and Cole traveled throughout Asia freelancing for a variety of Japanese and other newsmagazines. Cole would later win the 1989 World Press Photo of the Year Award while working for Newsweek for his shot of the Tiananmen Square "Tank Man." In between his travels as a photographer, Gardner worked the club scene first as a musician in his own right and then as a backing artist for foreign acts in Japan.
From 1982 until 1996 he supported touring foreign artists for a division of Sony Music, playing as a back-up artist for musicians such as Ben E. King and Gordon Edwards, bassist with the New York jazz-funk band Stuff. It was then that he decided to concentrate more seriously on music.
As Gardner explains, "The yen at the time was something like 250 to a dollar, and that made it very difficult to bring in and pay musicians to travel with known artists. So I was able to be a side player, and I liked it. I had no illusions of riding the top wave, but those guys on top, they need guys like me to hold them up, and I like that. I like helping people. I like being one of the tires on the car, as long as there's lots of air in the tires and a good driver behind the wheel."
It was while working as a backing singer that Gardner brushed up against the 1995 disaster. "We were actually playing the night before in Kobe at a little joint called Chicken George, right in the middle of the zone later burned by the fire. We were supposed to stay in a little business hotel in that area, but at the last minute our new manager booked us to go back to Kyoto that night. We finished the show and kind of grumbled, since we had to take the train as the tour bus had broken down. But we made it to Kyoto, and the next morning, the earthquake happened. It was sort of the beginning of the end of that musical adventure."
Gardner still jams with visiting musicians, but his main musical work now centers around his own solo projects and collaborations — projects such as the Jericho Road Show, "an all-acoustic international group of seasoned musicians spanning 16 time zones and 100 years of American roots music," and the Tokyo Blues Cruise, an endeavor organized by Gardner and his friend Mike Maksimuk.
"I play solo or we book a couple of musicians using one of those old-time party boats to cruise up and down the Sumida River," Gardner explains.
Spreading the history of the blues is also important to Gardner. He lectures frequently at universities in Japan and abroad about blues and roots music and its racial and cultural connections to the past.
"I do a seminar on the first 69 years of 20th-century American history for Meiji University. I also travel for the (U.S.) State Department on occasion as well, doing an American roots and music seminar for universities, and recently for high schools.
"Unfortunately, even with the Internet and all the music that is out there right now, when I go around and talk to young people with ear buds in their ears 24 hours a day, they're mostly listening to the same thing. When you've got so much music around you all the time, when you're constantly sticking it in your ear, then you're no longer considering the distinctiveness of the music. You're no longer concentrating, and it's only white noise."
Whether making one-stringed guitars with children in Fukushima or picking out a tune on stage, wherever you find Gardner, you'll find distinctive music. Now well into his fourth decade in Japan, he says he'll never stop rambling. He'll be touring the nation this spring before heading to New Orleans in summer to record the follow-up to his 2012 CD "Hesitation Blues," a solo acoustic project.
His advice to fellow ramblers? "Don't eat the fruit without appreciating the tree."
Read it on the Japan Times website